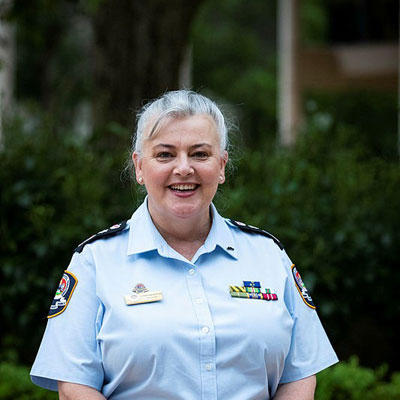 Graeme Shirtley OrationCommissioner Georgeina Whelan, AM, CSC and Bar
ACT Emergency Services Agency
Georgeina Whelan graduated from Officer Training in June 1988. She has extensive experience in the command and management of Defence health systems, and military and civilian disaster and emergency response. As an Army Officer, Brigadier Whelan deployed to East Timor in 1999 and to Banda Aceh, Indonesia on Operation Sumatra Assist in command of the ANZAC Field Hospital in 2005. She has completed several leadership, management, and tertiary programs over the past two decades.
Georgeina joined the ACT Emergency Services Agency as the Chief Officer of the State Emergency Service in late October 2017. She was subsequently appointed as the Commissioner of the ACT Emergency Services Agency in September 2019. She was appointed as the ACT Emergency Controller and led the ACT response to the 2019 Black Summer Fires. She remains engaged with Defence through Reserve Services as a project officer within the Directorate of Army Health.
Georgeina was awarded a Conspicuous Service Cross (CSC) in 2004 and was made a Member of the Order of Australia (AM) in 2006 and awarded a Bar to her Conspicuous Service Cross in the 2016.
She was named ACT Telstra Businesswoman of the year in 2015 and awarded the ACT Public Service Award for Leadership in 2019.
Georgeina is the patron of the ACT Down Syndrome Association and sits on several research and advisory boards that focus on the provision of health and wellness programs to both ADF and Australian Emergency Service First Responders. She is also a member of the Australasian Fire and Emergency Services Male Champions of Change Coalition.
Georgeina is married to Gary a retired Army Officer and Fire Fighter and they have four children. Georgeina's interests include coaching netball, following the NRL, cooking and watching Gary gardening