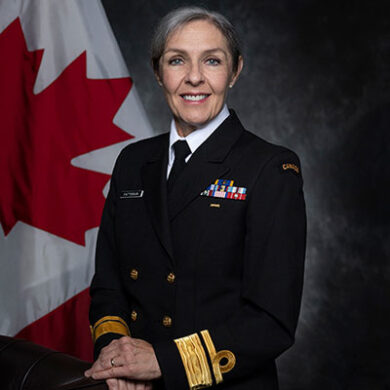 Rear-Admiral R.L. Patterson, OMM, MSM, CD, CHE
Chief of Staff, Chief Professional Conduct and Culture
Rear-Admiral Rebecca Patterson enrolled in the Canadian Armed Forces (CAF) as a critical care Nursing Officer in 1989 after obtaining a Niagara College Diploma in Nursing. A BScN/PCNP certificate (Summa Cum Laude) from the University of Ottawa was soon accomplished, which was followed by an occupational transfer to Health Services Operations Officer. Rear-Admiral Patterson went on to qualify as a Certified Health Executive with the Canadian College of Health Leaders and then graduated from the CF Command and Staff College Advanced Military Studies Course.
Rear-Admiral Patterson has worked in a number of health care domains, which include providing direct patient care, delivering and leading CAF medical education and training, overseeing and directing national level medical planning in support of CAF missions at home and abroad and leading a large CAF primary care health centre. In 2012, Rear-Admiral Patterson was appointed Commander of 1 Health Services Group, followed by an appointment to the position of Deputy Commander, Canadian Forces Health Services Group in 2016. A subsequent appointment to the Director General Professional Military Conduct – Operation HONOUR (DG PMC-OpH) ensued in 2018. Rear-Admiral Patterson was appointed as Commander Canadian Forces Health Services in July 2020. Rear-Admiral Patterson was appointed to the current position of Chief of Staff, Chief Professional Conduct and Culture in June 2021.
Rear-Admiral Patterson deployed as a member of Op SCALPEL with 1 Canadian Field Hospital during the Persian Gulf Conflict in 1991 (Saudi Arabia), Op DELIVERANCE in support of the Canadian Airborne Regiment in 1993 (Somalia), and Op ATTENTION with the NATO Training Mission – Afghanistan (Kabul) 2011-2012, where responsibility was granted for leading a multinational team tasked to assist the Afghan National Army and Afghan National Police with re-establishing their medical education and training system. In February 2014, Rear-Admiral Patterson was recognized for contributions to the mission in Afghanistan and was awarded the Meritorious Service Medal from the Governor General of Canada and was inducted as an Officer in the Order of Military Merit in 2018.
Rear-Admiral Patterson remains an active member of the College of Nurses of Ontario, the Canadian College of Health Leaders and serves on the Board of Directors for Soldiers Helping Soldiers. Rear-Admiral Patterson was named one of 12 Global Edmonton Women of Vision, was granted the Ontario Premiers Award for Excellence in Health Sciences for Ontario College graduates, received recognition for "Breaking Down the Barrricades" in Esprit de Corps magazine's highlights on women's contributions to the Defence community, and was presented with the Niagara College Distinguished Alumni Award. Named the CAF Defence Champion for Women in 2018, Rear-Admiral Patterson continues to serve in this capacity.