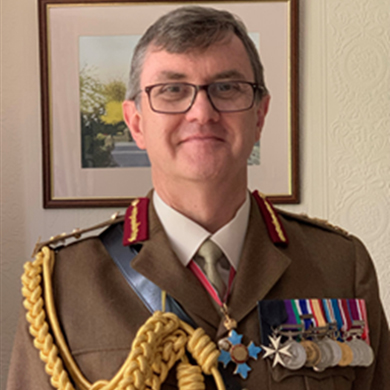 Surgeon General, Major General Tim Hodgetts
Strategic Command, Headquarters Defence Medical Services, U.K.
CBE QHS OStJ PhD MMEd MBA MBBS CMgr FRCP FRCSEd FRCEM FIMCRCSEd FRGS
Tim was commissioned in 1983 and trained at Westminster Medical School, qualifying with distinction in 1986. He holds fellowships with the Royal College of Physicians of London, Royal College of Surgeons of Edinburgh, Royal College of Emergency Medicine, Faculty of Pre-hospital Care, Institute of Healthcare Managers, and the Royal Geographical Society. He has a PhD in Public Health ('A revolutionary approach to improving combat casualty care'); Master's degrees in Medical Education and Business Administration; and is a Chartered Manager. He graduated from Joint Command & Staff College (psc[j]) in 2011 and the Royal College of Defence Studies in 2018.
Tim's professional career began as a general physician in the British Military Hospital in Hannover, progressing to higher training in emergency medicine in Manchester and Sydney. He became Consultant in Emergency Medicine at Frimley Park Hospital from 1995, transferring to the Royal Centre for Defence Medicine in 2001 on its inception, where he served until 2010. He was first appointed a Professor in 1998 at the European Institute of Health and Medical Sciences, then at the University of Birmingham (2001), and at City University of London (2013). He was the inaugural Defence Professor with the Royal College of Emergency Medicine, and Penman Foundation Professor of Surgery in South Africa for 2011.
Within Defence Tim has been responsible for nurturing the specialty of emergency medicine from infancy to maturity. He has implemented concept, doctrine, equipment and practice changes to transform the early management of combat injury and led major trauma governance from 1997-2010. Clinical leadership appointments have included Defence Consultant Adviser in EM (1997-2008); and Assistant Director Clinical Services at RCDM (2001-2007). He has served on operations in hospitals in Northern Ireland, Kosovo, Oman, Afghanistan (3 tours), Kuwait and Iraq (4 tours). On 6 of these tours he was the hospital's Medical Director, including the multinational Danish-UK-US hospital in Afghanistan, 2009. From 2011-13 he was Medical Director within NATO's Allied Rapid Reaction Corps; and from 2014-17 he was Medical Director for the Defence Medical Services. From 2018 until assuming his role as Surgeon General he has was the Army's Senior Health Advisor, the Head of the Army Medical Services and a Commissioner at the Royal Hospital Chelsea.
Tim has published extensively (books & journal articles) and regularly lectures internationally as a keynote speaker on leadership, innovation at pace, disaster medicine and combat casualty care. He is co-author of Major Incident Medical Management and Support; Battlefield Casualty Drills; Army Team Medic; Battlefield Advanced Trauma Life Support; and Clinical Guidelines for Operations. He co-founded the citizenAID® charity from 2017, designing a free multi award-winning app to support the public during a terrorist attack and inventing a new device (the Tourni-Key™) for the public to treat life-threatening limb bleeding.
Tim was made Officer of the Order of St John of Jerusalem in 1999 and Commander of the British Empire in 2009; he received the Danish Defence Medal for Meritorious Service in 2010. He was Queen's Honorary Physician from 2004 to 2010 and became Queen's Honorary Surgeon in 2018. In 2010 he received the Defence Scientific Adviser's Commendation for contribution to research and has been awarded 18 academic medals, including the prestigious Mitchiner Medal of the Royal College of Surgeons of England. His academic department was twice recognised nationally as the "Training Team of the Year" and in 2006 he was honoured with the personal accolade of Hospital Doctor of the Year throughout the NHS. He was named in a British Medical Association dossier as one of the most innovative doctors in the country.